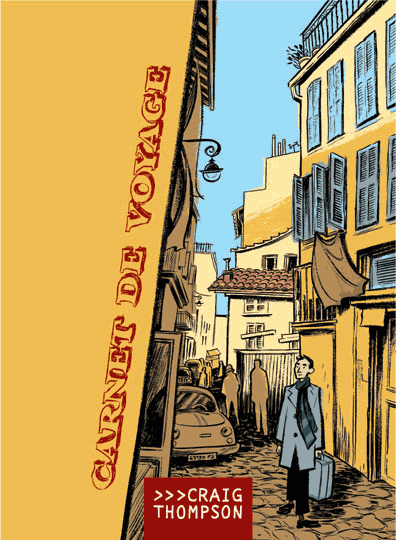 Craig Thompson -- the award-winning creator of

Blankets

-- spent three months travelling through Barcelona, the Alps, and France, as well as Morocco. Spontaneous sketches and a travelogue diary document his adventures and quiet moments, creating a raw and intimate portrait of countries, culture and the wandering artist.
I was originally going to use Locke & Key (which is good in it's own right) for this Sunday Sitdown, having read volumes two through four last month as well, but after finishing Carnet de Voyage I wanted to use that and say something different. There's tons of places where people mention well-deserved praise for Locke & Key, so why add one more when I can maybe bring up something new. I had read Blankets years back and after reading Habibi before the new year it had come to my attention how much I loved what Craig Thompson was doing and I needed everything he did on my shelf. So in February I was given Good-Bye, Chunky Rice and Carnet de Voyage. Good-Bye, Chunky Rice was enjoyable but it was a personal work that was mildly lost on me, but I kept finding myself enthralled by what he was doing in Carnet de Voyage. This is a nice little personal book that tells some great stories about travel and an artist on the move.
Now it's not really anything special, it's just a travel journal, but there are so many funny personal quips as well as tons of his great inkwork from architecture and figure drawings, to little cartoons and doodles. Craig Thompson is just as good of a storyteller as he is an illustrator. Rating: 4/5